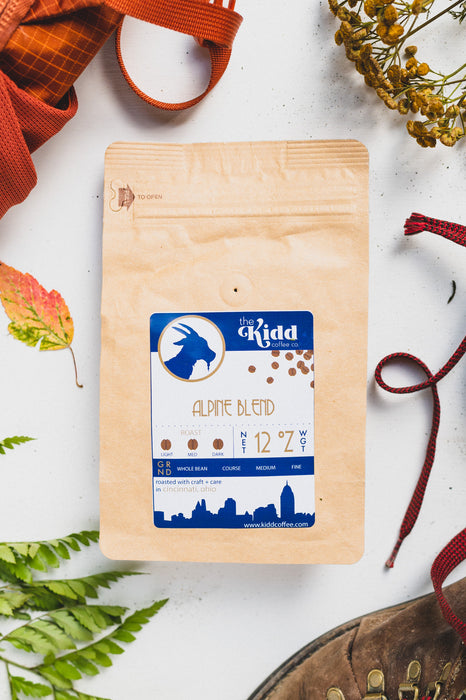 This coffee is for the adventurous. The foragers. The multi-day hikers. Those of you who think waking up at the break of dawn to take a long walk in the dirt is fun. Even the most adventurous of us need fuel. Our new Alpine Blend sports flavor notes of those you might find in your beloved trail mix. Such as chocolate, nuts, toffee, vanilla, and hazelnut. As with all of our coffees; it is slow roasted in small batches, bringing out even more delicious flavor. The perfect fuel for a beautiful day outside.
Enjoy Cincinnati's favorite small-batch roasted premier coffee bean! 
- From the Kidd Family to Yours
* Healthy Choice! - 
All of our flavored coffees are
sugar-free
and only 2 calories per cup! Sip on all of your favorite flavors without the guilt!
* Coffee Beans - We use high-quality, 100% arabica, medium roasted coffee beans, for all of our flavored coffees.
* Packaging - An attractive product that will look good on any kitchen counter! Our zipper bags lock in freshness better than the usual side-gusset coffee bags. For maximum freshness; keep your Kidd coffee in the freezer!
* Subscription Available -
Never run out of coffee again! We offer subscription times of 15, 30, or 60 days! Avoid the hassle of constantly ordering online!
* Returns -
Free and easy returns; satisfaction guaranteed!
Kidd Coffee Club
SUBSCRIPTION DETAILS
-Now save 10% and receive $3 flat rate shipping on every subscription order-
- Try new flavors each month with our fully customizable subscription - 
- Coffee delivery every 30 or 60 days - 
- No commitment, cancel anytime -