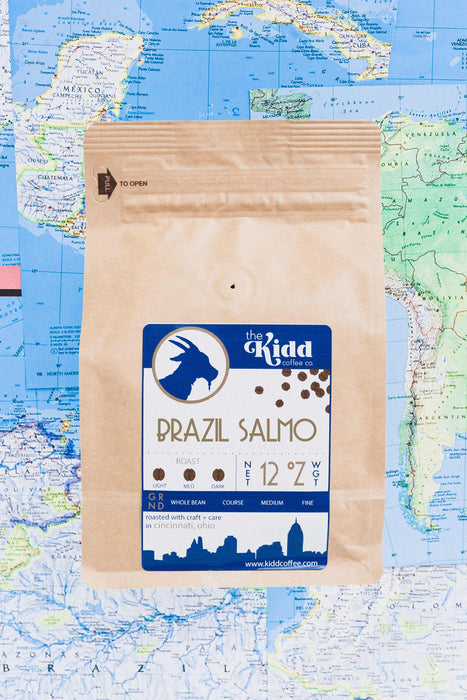 Pleasant Sweetness • Slightly Nutty
Citric Acidity • Light Body
Brazil coffee beans call home to a premier coffee growing climate in a tropical rain forest. The Brazilian climate is perfect for Brazil coffee beans because it produces a low acidic coffee that absorbs flavors easily, but creates a smooth, flavorful experience. Although the coffee tree is not native to Brazil, it should be because the coffee beans grow perfectly here and remain world renowned – making Brazil the number one producer of coffee beans in the entire world!

Enjoy Cincinnati's favorite small-batch-roasted premier coffee bean!   
- From the Kidd Family to Yours
* Coffee Beans - We use high-quality, 100% arabica
* Packaging - An attractive product that will look good on any kitchen counter! Our zipper bags lock in freshness better than the usual side-gusset coffee bags. For maximum freshness; keep your Kidd coffee in the freezer!
Kidd Coffee Club
SUBSCRIPTION DETAILS
-Now save 10% and receive $3 flat rate shipping on every subscription order-
- Try new flavors each month with our fully customizable subscription - 
- Coffee delivery every 30 or 60 days - 
- No commitment, cancel anytime -