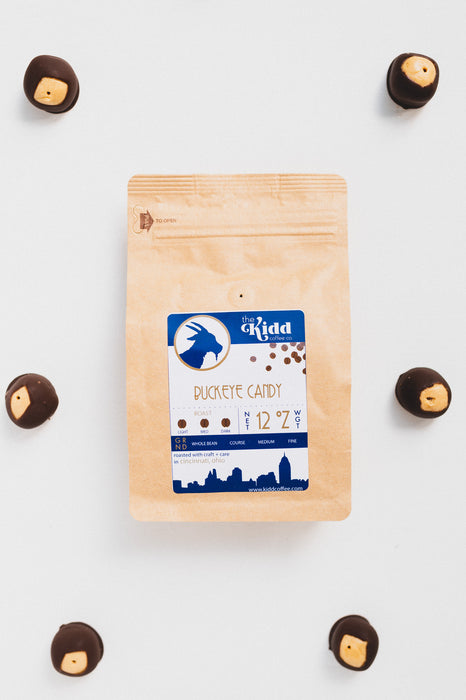 Our new Buckeye Candy coffee is for everyone but is especially tasty to Ohioans. The buckeye is our state tree and a beloved candy. This coffee is a beautiful blend of sweet chocolate and peanut butter. Slow roasted to bring out even more flavor...It's perfect as an after-dinner drink with dessert or any time of day, really!
Enjoy this small batch roasted premier coffee bean! 
- From The Kidd Family To Yours - 
* Healthy Choice! - All of our flavored coffees are sugar free and only 2 calories per cup! Sip on all of your favorite flavors without the guilt!
* Coffee Beans - We use high-quality, 100% arabica, medium roasted coffee beans, for all of our flavored coffees.
* Packaging - An attractive product that will look good on any kitchen counter! Our zipper bags lock in freshness better than the usual side-gusset coffee bags. For maximum freshness; keep your Kidd coffee in the freezer!
* Subscription Available -
Never run out of coffee again! We offer subscription times 30 or 60 days! Avoid the hassle of constantly ordering online!
* Returns -
Free and easy returns; satisfaction guaranteed!
Kidd Coffee Club
SUBSCRIPTION DETAILS
-Now save 10% and receive $3 flat rate shipping on every subscription order-
- Try new flavors each month with our fully customizable subscription - 
- Coffee delivery every 30 or 60 days - 
- No commitment, cancel anytime -