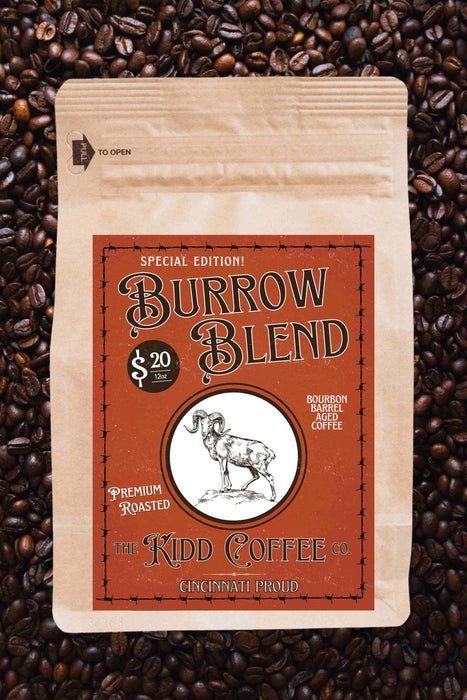 𝗕𝗢𝗨𝗥𝗕𝗢𝗡 𝗕𝗔𝗥𝗥𝗘𝗟 𝗔𝗚𝗘𝗗 𝗖𝗢𝗙𝗙𝗘𝗘 - coffee artfully paired with 𝒂𝒘𝒂𝒓𝒅 𝒘𝒊𝒏𝒏𝒊𝒏𝒈 𝑲𝒆𝒏𝒕𝒖𝒄𝒌𝒚 𝑩𝒐𝒖𝒓𝒃𝒐𝒏. Roasted fresh to perfection by a small batch Roaster here in Cincy! We take great care in choosing the best coffee grain farms and support sustainable sourcing for an even more qualitative product.



𝗔𝗠𝗔𝗭𝗜𝗡𝗚 𝗧𝗔𝗦𝗧𝗘 𝗣𝗥𝗢𝗙𝗜𝗟𝗘 - Tasting notes of chocolate hazelnut, sweet plums, roasted nuts with a bourbon finish. Roasted to a Medium-Dark, the natural profile of the grade 1 bean paired with the bourbon is extremely smooth. Offering a truly amazing yet subtle scent, our coffee-tasting set will please coffee enthusiasts, it's the perfect gift for those who already "has everything". 
━━━━━━━━━▼━━━━━━━━━
* Packaging - An attractive product that will look good on any kitchen counter! Our zipper bags lock in freshness better than the usual side-gusset coffee bags. For maximum freshness; keep your Kidd coffee in the freezer!
* Subscription Available -
Never run out of coffee again! We offer subscription times 30 or 60 days! Avoid the hassle of constantly ordering online!
* Returns -
Free and easy returns; satisfaction guaranteed!
Kidd Coffee Club
SUBSCRIPTION DETAILS
-Now save 10% and receive $3 flat rate shipping on every subscription order-
- Try new flavors each month with our fully customizable subscription - 
- Coffee delivery every 30 or 60 days - 
- No commitment, cancel anytime -