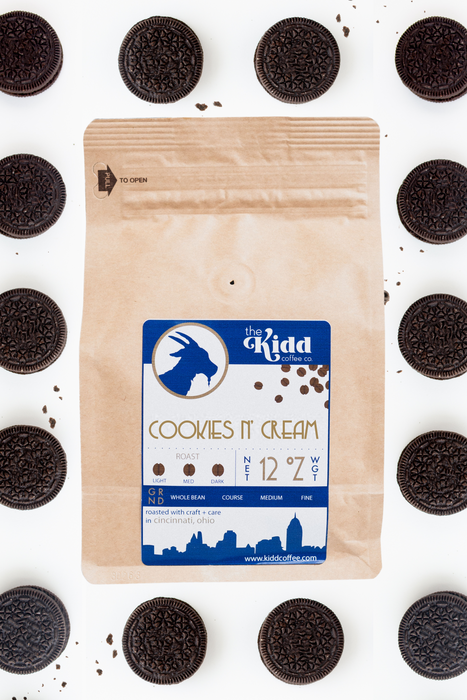 Cookies N' Cream 12 oz Bag
Indulge in the creamy and delectable taste of our newest coffee flavor - cookies n' cream! Perfectly balanced with rich coffee notes and the sweet, nostalgic flavor of cookies n' cream, this new addition to our coffee collection is sure to satisfy your cravings and elevate your coffee experience. Whether you prefer it hot or iced, with milk or without, our cookies n' cream coffee is the perfect treat any time of day. Try it now and discover your new favorite coffee flavor!
Enjoy Cincinnati's favorite small-batch-roasted premier coffee bean!   
- From the Kidd Family to Yours
* Healthy Choice! - All of our flavored coffees are sugar free and only 2 calories per cup! Sip on all of your favorite flavors without the guilt!
* Coffee Beans - We use high-quality, 100% arabica, medium roasted coffee beans, for all of our flavored coffees.
* Packaging - An attractive product that will look good on any kitchen counter! Our zipper bags lock in freshness better than the usual side-gusset coffee bags. For maximum freshness; keep your Kidd coffee in the freezer!