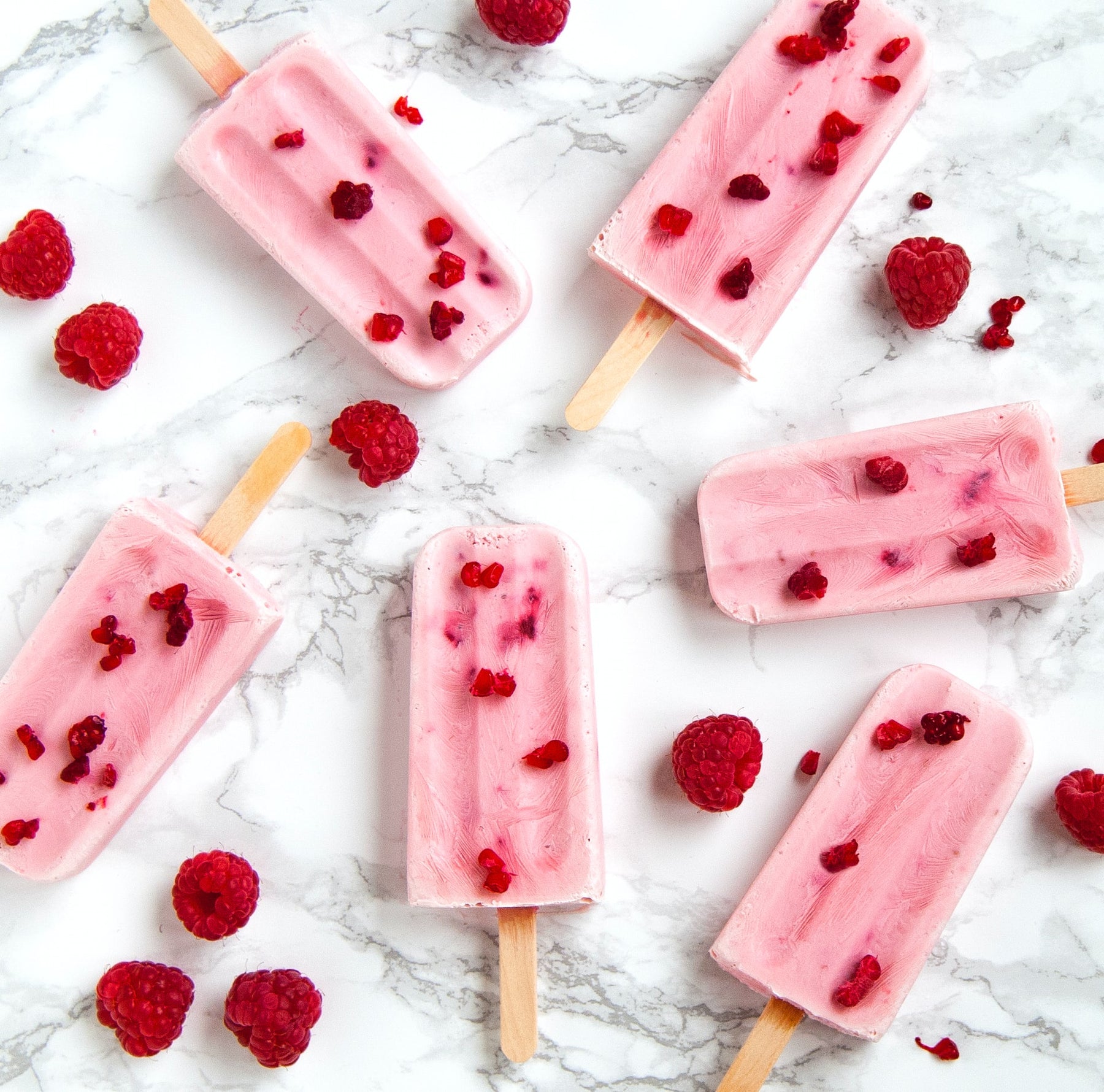 DIY COFFEE POPSICLES
 Looking for some Kidd inspired treats to keep cool this summer? Here's 7 popsicles to delight your taste buds.
Espresso Chocolate Chip Cookie Popsicle
There aren't many things more delicious than dipping a chocolate chip cookie in milk; which makes this popsicle #1on my list.
You'll Need:
- Chocolate Chip Cookies with Chocolate Covered Espresso Beans
- Whipping Cream 
- Powdered Sugar
 -Popsicle Molds
Let's start by breaking up our espresso chocolate chip cookies into bite sized pieces since whole cookies won't be fitting in our popsicle molds, and set aside.  Next let's whip our cream, put 1 cup of heavy whipping cream in a medium bowl and whip until stiff peaks form, adding a little bit of powdered sugar at a time. Once your cream is sufficiently mixed, fold in crushed cookie pieces. Fill each mold about 3/4 of the way up. Then we'll be finish off with a few more pieces of cookie in each popsicle for even distribution! Let freeze over night or until solid. Enjoy cookies and cream anytime of day as a refreshing treat!
Almond Joy 
Savor this classic sweet treat, with a Kidd twist. What's better than delicious coffee, and your favorite candy? A popsicle version to beat the summer heat! 
You'll need:
- Coffee brewed with Kidd's Brazilian Sunset Flavored Coffee Beans 
-Coconut Cream
-Cocoa Powder
-Shredded Coconut
- Roasted Sliced Almonds 
-Crushed Chocolate
-Popsicle molds
In a bowl mix together coffee, coconut cream, cocoa powder, shredded coconut, crushed chocolate, and almonds. Set some of the crushed chocolate, and almonds aside. Mix the remaining chocolate and almonds in a separate bowl, sprinkle a small amount in the bottom of each popsicle mold, fill molds 3/4 full, and sprinkle the rest of the chocolate and almonds on the popsicles. Freeze until solid, enjoy when ever!
Espresso & Cream
 Bold and dark espresso contrasted with sweet cream makes delicious and diverse summer treats.
What you'll need:
-Fresh Brewed Espresso
-Heavy Whipping Cream
-Powdered Sugar
-Cocoa Powder
 -Brown Sugar
-Popsicle Molds
Lets start by whisking the brown sugar and cocoa powder into our espresso (I suggest Highlander Grogg a barista favorite) while it's still warm, so the sugar dissolves properly. Once thoroughly mixed let it cool in the fridge. While thats cooling lets whip our cream. Put 1 cup of heavy whipping cream in a medium bowl and whip until stiff peaks form, adding a little bit of powdered sugar at a time. Once your cream is sufficiently mixed, it's time to break out those popsicle molds. Fill molds 1/8 of the way with the now cool espresso. Spoon 2 tablespoons of whipped cream, freeze for 30 min, add more espresso, and whip cream creating your desired number of layers, freezing after every whip cream layer. Once you've filled your popsicle molds, freeze at least 4 more hours or until solid. Enjoy for a caffeinating and refreshing treat.
Strawberries & Cream
There's nothing better than an ice cold popsicle on a hot day! There are so many flavor options when it comes to coffee popsicles. Can you imagine getting to gnaw on your favorite latte flavor all day?! Today let's make a refreshing summer recipe, white chocolate strawberry. 
-Kidd Cold Brew
-Your Milk Of Choice
-Ghirardelli White Chocolate syrup
-Strawberries
-Popsicle Molds
The amounts you'll need will depend on how many popsicles are in your mold. We think you can measure with your heart on this one. First, let's start by cutting our strawberries. You want to cut them into thin slices so you get all the flavors in each bite. I'd recommend only adding 4-6 slices in each popsicle so the strawberry isn't overwhelming. 
Next, let's mix our cold brew (I recommend
Strawberry Fields
for the cold brew,) white chocolate sauce, and milk of choice in a glass. Once you've achieved your preferred sweetness level, let's prepare the popsicle molds. We can make these popsicles extra fancy with a little chocolate drizzle on the sides of the molds. Once you're done with your drizzle, go ahead and start filling the molds half way with your coffee mixture.
Then, stop and add a few strawberry slices. Fill each of them up some more with the coffee, then add the remaining strawberry slices. This will help keep the strawberries spread throughout your popsicle. 
Freeze overnight and you'll be stocked with sweet summer treats the next morning!
Blackberry Latte Popsicles
If you like fruity lattes; this is the popsicle for you!
First, we need to make our blackberry compote. Empty a pack of blackberries into a small saucepan on low heat. Add 1/4 cup of coconut sugar stirring constantly until the blackberries completely reduce. Remove from heat stir in the half & half, let cool until room temperature then mix in finely ground espresso (I recommend
Crumb Cake
for a Blackberry Cobbler twist)
Cold Brew Mocha Popsicles
This is the healthier of our DIY popsicles and is also a dairy free option!
-3/4
cup
 vanilla
 almond milk
-1 1/2 
tablespoons
 cocoa powder
In a bowl combine your coffee, almond milk, honey, and cocoa powder. Then simply pour the mixture into your popsicle molds. You could keep this recipe simple or add a little flair with some extra cocoa powder on top of each popsicle. Freeze overnight or for at least 8 hours. Enjoy this lightly sweet and refreshing caffeine kick anytime of day!
Black Forest Cake Popsicle
A favorite year round here's a healthier popsicle featuring the classic flavors of dark chocolate and black cherries.
You'll need: 
-Dark Chocolate Chips
-Black Cherries (pitted and diced)
-Coconut Yogurt
-Finely Ground Coffee Beans
-Popsicle molds
To get the cool color contrast for these popsicles were going have to yogurt mixtures. For the first one blend you cherries, some dark chocolate, and half your yogurt together. For the second one, fold dark chocolate and 2 tablespoons of finely ground coffee grounds (I recommend Black Forest Cake Coffee Beans) into yogurt. Fill your popsicle molds 1/4 of the way with the black cherry yogurt mixture, then fill them until they're 3/4 full with the chocolate and coffee yogurt mixture. Top with remaining cherry mixture and freeze until solid.
These are some of our favorites, feel free to make your own Kidd inspired popsicles and share them on Instagram and tag The Kidd Coffee Co to see them featured on our social media.