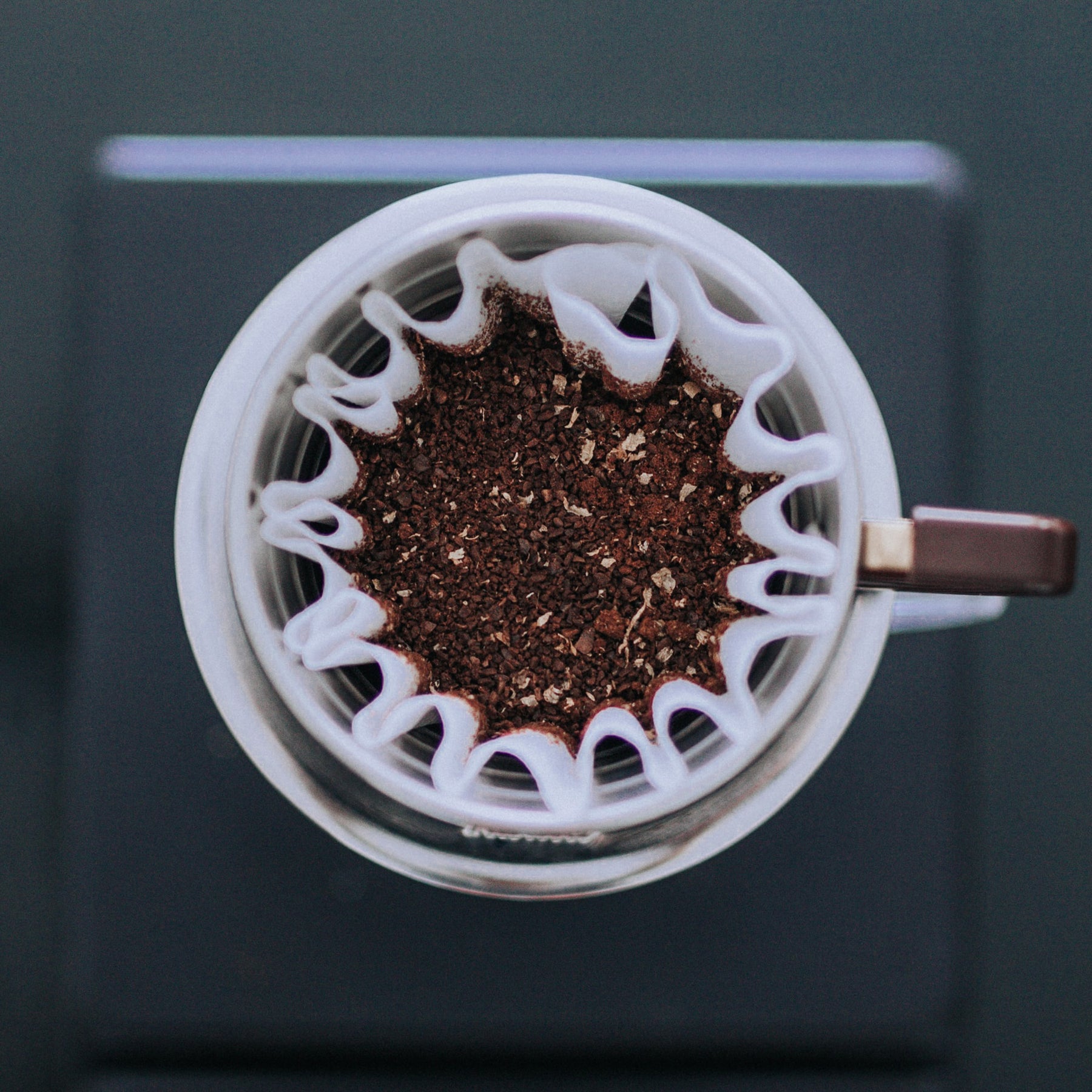 Ideas Of What To Do With Coffee Grounds
Have you ever thought about what to do with your coffee grounds? If you're like me, chances are you probably haven't. I know, I know... When it comes to trash, coffee grounds seem so inconsequential. We've all probably been guilty of tossing them in the trash or compost bin without giving them a second glance. Coffee grounds seem to have a stigma attached to them that tells us they're useless. They are left sitting in the bottom of your coffee mug not knowing what their destiny will hold. However, we should be more considerate to our spent coffee grounds and provide them with an alternative purpose. They are very useful when you make them into compost, adding them to your plants and garden, or using them in recipes. Below is a compilation of ideas to use up that lump of coffee matter you've been saving after every cup you enjoy.
USE THEM IN CRAFTS OR AS PAINT
There are a lot of benefits to drinking coffee, but now you can add "can be used as an alternative paint" to the list. These are the top benefits of using coffee grounds in place of store bought paint: it's cheap (free actually), it feels almost identical to painting with watercolors, and it smells good. So, the next time you feel like getting creative with your friends, break out the used coffee grounds and give it a go. If you post a photo of your creation, be sure to tag @thekiddcoffeeco and we will feature it on our page!
COMPOSTING
Coffee has great advantages in soil. According to studies, when someone adds 1/2 cup of coffee weekly to their garden bed, it will naturally enrich the soil and impede any plant diseases. This is because it releases fungi into the soil that cuts down on bacteria and other causes of some plant diseases that can easily jump from one plant to another. Coffee also keeps the earthworms in your garden happy. Additionally, these grounds also provide nitrogen-rich minerals to your plants which they need to stay healthy.
ADD THEM TO A CANDLE
There are few things as intoxicating as the rich aroma of a fresh-brewed cup of coffee. As tantalizing as that scent is, what most of us don't realize is all those wonderful coffee grounds sitting in the bottom of our mugs could be repurposed into another useful household product: an all-natural candle. You can buy the wicks online, upcycle an old coffee mug or planter, and reuse your old coffee grounds to make something truly amazing. Create one as a nice addition to your home or as a great handmade gift for a friend. Just melt the wax of your choice, add in your coffee grounds and pour into a container. You could even add dried flowers or whole coffee beans on top for a decorative look.
COFFEE GROUND BROWNIE RECIPE
This next idea is a little more involved than the rest...But is also super delicious and worth the time. Do you have a get together or potluck coming up anytime soon? Consider trying out these coffee ground brownie bars, sure to please anyone who loves chocolate and coffee.
Ingredients needed:
8 cups strong black coffee
3 tbsp of fine coffee grounds
3 tbsp of cocoa powder
1 and 1/2 cups of white sugar
1/2 cup melted butter
2 eggs
1 tsp of vanilla extract
1/2 cup all-purpose flour
1/4 tsp salt
1/4 tsp of baking powder (not soda).
Step One: Put your coffee in a saucepan on medium heat and reduce it until it becomes 2/3 cup worth of a thick coffee concentrate.
Step Two: Preheat your oven to 350 degrees. Spread olive oil around an 8x8 pan to get a clean brownie lift.
Step Three: Combine your wet ingredients in one bowl and your dry in another. Adding one ingredient at a time and mixing thoroughly. Once your dry and wet ingredients are mixed separately, go ahead and combine them into one bowl and mix again. Then your ready to spread the mixture into your 8x8 pan. - If you want to be extra fancy, you could add some chocolate covered espresso beans on top of your mixture.
Step Four: Bake for 30 - 35 minutes or until you can poke it with a toothpick, and it come out clean! Then cut into your desires shapes. Voila! And you have decadent mocha bars sure to impress at any gathering.
SWEET COFFEE GROUND DIP
 Basically an icing, but I won't tell if you don't. This dip could be used as a great addition to a sweet charcuterie board. You could dip all kinds of things in it like, cookies, pretzels, strawberries, bananas, etc. Just take 1 cup of powdered sugar,  1 1/2 tablespoons of strongly brewed coffee, and 1 teaspoon of very finely ground coffee grounds and combine.
TOPPING FOR ICE CREAM
Okay, so we've all had sprinkles on our ice cream but have you ever tried the adult version of sprinkles? Fine coffee grounds are AMAZING as a topping for ice cream. My friend introduced me to this about a year ago and it changed my life. The flavor combinations are endless and it heightens just about any flavor ice cream you put them on. Just make sure they are FINE coffee grounds or else the experience won't be as good. Give it a try and let us know what you think!
DONATE TO A LOCAL GARDEN
 Now that you know the great benefits of using coffee grounds in composting and gardens, consider donating to a local gardener or farmer. If you're someone who drinks coffee daily but isn't into gardening or plants, I'm sure there's someone in your local community who would really appreciate the donation to help their plants thrive! Now you're reducing waste and building your community! 
COFFEE GROUND SMOOTHIE RECIPE
Good things come to those who grind. Like this creamy, chocolaty drink made from recycled coffee grounds.

In a large blender...
- 5 ice cubes
- 1 frozen banana
- 1 cup of your preferred milk
- 2 tbsp of vanilla greek yogurt
- 1 scoop of chocolate protein powder
- 2 tbsp of sugar free chocolate chips
- 1 tbsp of coffee grounds
- Blend to your desired consistency!

Then add, cinnamon, extra coffee grounds, or chocolate shavings on top! 
 
COFFEE GROUND FACIAL SCRUB
It might sound crazy to you, but I love using my leftover coffee grounds in my homemade beauty products. Coffee grounds have great exfoliating properties and the added caffeine gives my skin a boost. I love using this 5 ingredient sugar coffee face scrub.
Ingredients:
- 1/2 cup of brown sugar
- 1 tsp of cinnamon
- 1/3 cup of Epsom salt
- 1 cup of coffee grounds
- 1 cup of olive oil or coconut oil
Combine and gently scrub your face with the mixture! For the best results make sure you are applying the scrub to a clean face. Also, lay a hot rag over your face first to open the pores for the full effect. Use this scrub every other week for insanely smooth and hydrated skin.
COFFEE GROUND BODY SCRUB
This body scrub is insanely simple... So simple that it only requires one ingredient. You guessed it; coffee grounds. Using coffee grounds in the shower is an amazing exfoliator. You can choose your level of exfoliation by how finely it is ground. The thicker the grind, the more exfoliating power. Caffeine has also been said to help reduce the appearance of cellulite and brighten/ rejuvenate the skin. Just be careful when using this in the shower. There are natural oils in coffee that can make your tub a bit slippery. We recommend using a shower mat when trying out this body scrub. If you'd like to take this scrub to the next level, you could add some coconut oil to hydrate your skin while you exfoliate.