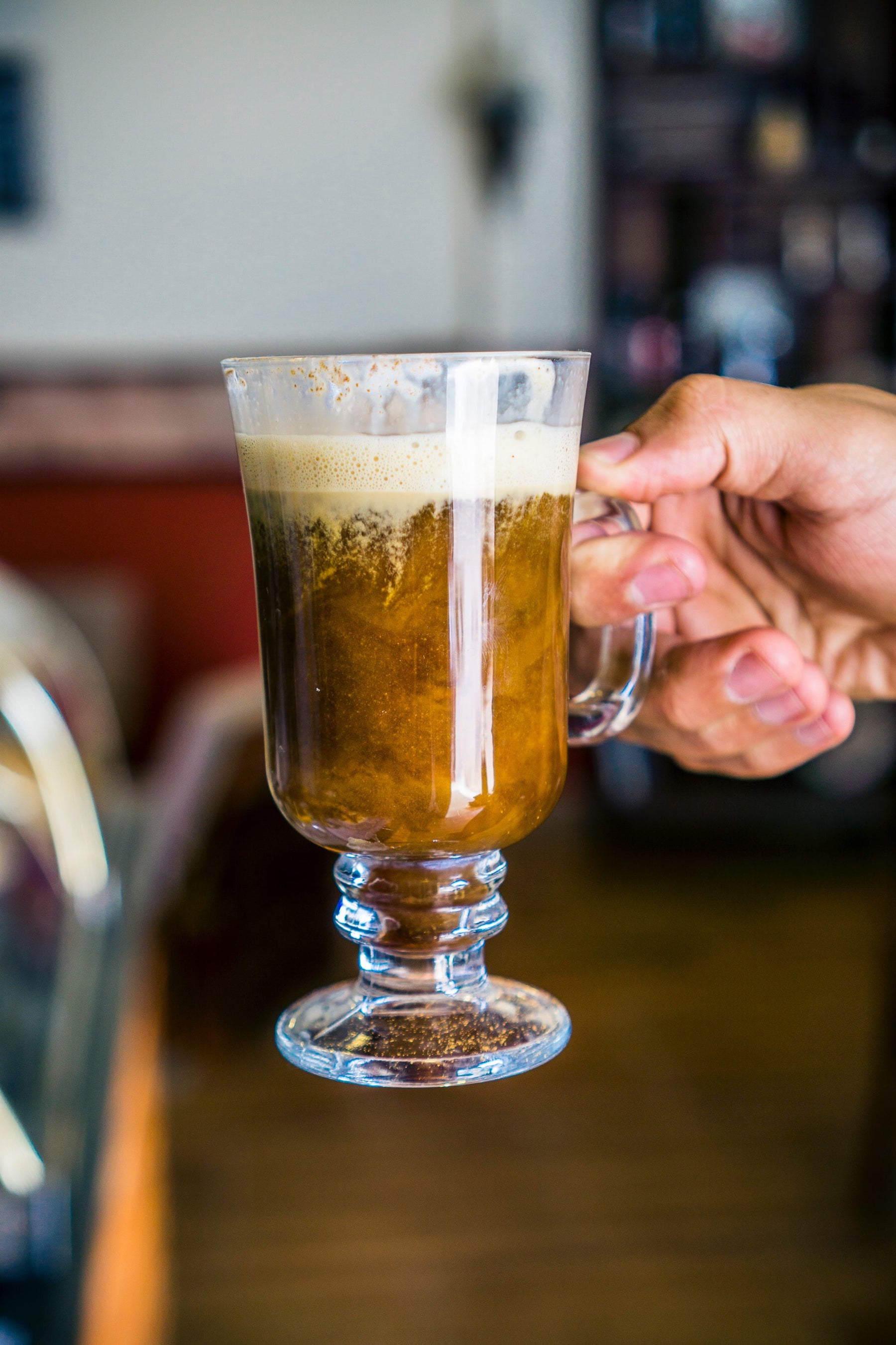 Our Favorite St. Patrick's Day Coffee Drinks
This St. Patrick's Day, celebrate over a drink (or two or three!) with some of our favorite coffee-infused cocktails! Whether you're planning to spend the holiday with a few friends or you're partying in the comfort of your own home, use these recipes (and your favorite Kidd Coffee!) to make your St. Patrick's Day a little more caffeinated!
1. CREAMY IRISH COFFEE 
A classic St. Pattie's Day drink! Creamy Irish Coffee is obviously the first on our list. For this recipe, we recommend using our Irish Cream flavored coffee or any regional blend.
You'll need:
- 2 oz of Irish whiskey
- 4 oz of coffee
- 1 tbsp of brown sugar
- 2 oz of heavy whipping cream
Serving Size: One Glass
First, we are going to warm the glass we will be putting the coffee in, and cooling the bowl we will be mixing our whipped cream in. Go ahead and fill your coffee glass with piping hot water to get it warmed up. The secret to great whipped cream is keeping it cold through the whipping process; so place your mixing bowl and whisk in the freezer for about 5-10 minutes.
Once your bowl is nice and cold pour 2 oz of heavy cream and whip it until thick, but not to the point of having stiff peaks.
Next, pour out the warm water from your glass and pour in 4 oz of freshly brewed Kidd Coffee. Then add 1 tablespoon of brown sugar and mix until dissolved.
Then add a few drops of coffee to your whipped cream and mix again. 
Then add your 2 oz of whiskey to your coffee.
Now, it's time for the cream. We want that nice clean layer of cream on the top, so be very specific with this part. Take a spoon upside down and lay it at the top, touching the inside of the glass and the very top of the coffee. Pour the cream slowly over the spoon and create a perfect layer of cream that will resemble a good glass of Guiness.
Sprinkle nutmeg or chocolate on top and enjoy!
2. ST. PATRICK'S SPIKED COFFEE
We love this super simple recipe that basically just uses Irish Cream Whiskey instead of cream and sugar. But we've decided to add a twist. You won't be getting pinched with this drink in your hand!
Mix together in an Irish Coffee mug...
 - 4 ounces of freshly brewed Kidd Irish Cream coffee
 - 2 ounces of Baileys Irish Cream
- One drop of green food dye
 - Top with whipped cream
 - Add a dash of nutmeg or cinnamon
And Voila!
3. CANADIAN IRISH COFFEE
A twist on the classic Irish coffee. This version is full of delicious maple flavor. Give it a try, Eh?
You'll need:
- 2 Tbsp + 1 tsp maple syrup
- ½ cup whipping cream
- 2 oz Canadian whisky
- 6 oz hot strong coffee
Using the same method in our creamy irish coffee recipe, we want to heat our mug and cool our whipped cream mixing bowl. Whip ½ cup of cream until stiff peaks form. Then mix in 2 tbsp of maple syrup. Combine in your mug, 2 oz of whiskey, 6 oz of strong coffee, and 1tsp of maple syrup. Top with a generous dollop of maple whipped cream! This recipe is great iced as well! Let us know which version of the Irish Coffee is your favorite
4. BOOZY SHAMROCK SHAKE
This drink has beautiful layers of brown mocha shake and green vanilla mint shake and is perfect as a boozy dessert drink for St Patrick's  Day. 
For the bottom half of the shake you'll need:
- 4 cups of chocolate ice cream
- 1/4 cup of iced coffee
- 2 oz of Irish whiskey
- 1 tbsp of chocolate chips
For the top half of the shake you'll need:
- 4 cups Vanilla Ice Cream
- 1/4 cup Milk
- 2 oz Creme de Menthe
- 2 oz Vanilla Vodka
- Green Food Coloring
Makes 4 shakes
There aren't many steps to making this yummy shake. Combine the ingredients for the bottom half in a blender and blend until thick and creamy. Fill up half of each glass with the mocha whiskey shake mixture. Clean out the blender, then combine all of the ingredients for the top half and blend until creamy. Now add your vanilla mint layer on top! This shake is sure to be a crowd pleaser.
5. TURTLE COFFEE COCKTAIL
If you're not super into mint, and are more of a caramel fan, this one's for you. 
- 1/4 cup of Kidd Irish Cream coffee (cold)
- 1/4 cup Bailey's Original Irish Cream
- 2 scoops mocha ice cream
- caramel syrup
In a blender, combine your iced coffee, Bailey's, milk, ice cream, and chocolate and caramel syrup until creamy. In an Irish coffee mug, drizzle chocolate and caramel syrup along the sides. Pour in your shake mixture, then top with whipped cream and crushed pecans.
-
BONUS!
IRISH FLAG RECIPE
This recipe doesn't have coffee in it, but it was too cool not to include. This drink has 3 layers of different alcohols, green Creme De Menthe, white Bailey's Irish Cream, and orange Grand Marnier. You just need equal parts of each in a glass. Just like we poured our whipped cream over a spoon in our first tutorial; we're going to do the same with each layer of this drink. Turn a spoon over, place it inside of the glass and pour each layer over the spoon slowly to create equal layers of color. If you do it right, it will turn out looking like the Irish flag! This recipe is great as a full size drink or as shooters. And don't worry, even if your layers don't turn out perfect, the drink will still be super tasty.
-
However you plan to celebrate, we hope you have a wonderful and safe St. Patrick's Day!
From The Kidd Family To Yours 💙🐐